Willamette: Roundtable

Roundtable is open to all Scout leaders in all BSA programs.
The monthly 'Roundtable' gathering is an opportunity for Scouters to gather as a group with opportunity for equal exchange of ideas. Boy Scout and Cub Scout leaders and interested parties meet together to discuss relevant issues in their troops and packs today.
There is a great deal of camaraderie developed at the meetings as there is an open exchange of ideas. If you have questions about how to solve issues in your troop or pack, Roundtable is a perfect opportunity to get new ideas to take back to your Scouts.
Scouting continues to update requirements and training to provide the best program for all Scouts, making Roundtable the perfect opportunity to keep up to date with changes and make sure your pack or troop is moving in the right direction. All Scout leaders, committee members and parents are welcome to attend, and all will find something of interest to their Scouting experience.
When:
Second Thursday of each month, starting at 7pm.
Where:
Christ the Good Shepard, 4440 State St NE, Salem
What Happens:
Roundtable typcially starts with a general assembly and adult recognition from 7:00 PM - 7:30 PM and then we separate into Cub Scout, Boy Scout and Venturing Roundtables, as well as our Order of the Arrow Chapter meeting. In addition to the typcial break outs - each month a different specialty topic is discussed - examples: Recharter Training, Friends of Scouting Training, Popcorn Training, Life to Eagle Training, and others. Come a few minutes early and enjoy a time of fellowship with your fellow scouters.
Roundtable Purpose:
The mission of the Boy Scout roundtable is to provide quality resources,knowledge, and skills to unit leaders to enable and motivate them to deliver an outstanding program to their Scout troops. Roundtables focus on program highlights for upcoming months, not on the current month.
Who attends Roundtable?
They are designed for all unit leaders.
Cub Scout leader roundtables are for Cubmasters, den leaders, Webelos den leaders, all assistants, and pack committee members.
Boy Scout leader roundtables are for Scoutmasters, assistant Scoutmasters, and troop committee members.
Varsity leader huddles are for Varsity Scout Coaches and other team leaders.
Venturing Program Forums are designed for all adult crew leaders, i.e., Advisors, associate Advisors, adult Sea Scout leaders, and crew committee members. On occasion, youth officers should also attend.
Unit commissioners attend the roundtables in which their leaders are involved. For some unit commissioners this may mean dividing their time, between more than one breakout session.
---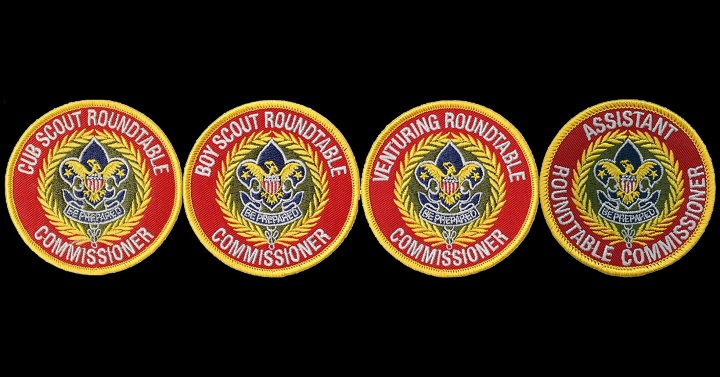 <!518946531881754> <!518946531881754>