Chinook District
---
×
---
**CANCELED** 2019 Webelos Woods
Sadly, we looked at the registration numbers and made the difficult decision this afternoon to cancel Webelos Woods.

It was scheduled for this weekend, Sept. 6-8. Registered were eager Webelos and their parents. Our staff was excited.

THANK YOU to all who registered! We will discuss the possibility of rescheduling it either later this month or next.

We made the valiant try! Thanks again!
---
**CANCELED** Roundtable This Thursday, Jan 12 at 7pm
"It is very clear that scheduling roundtable causes snow." —Mike Dugaw, District Commissioner
---
The Chinook District is proud to announce our
2019 District Award of Merit Recipients: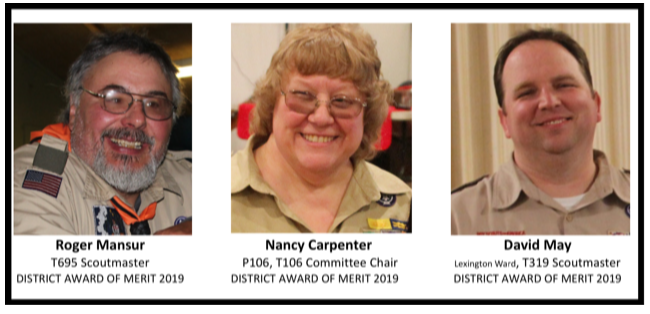 ---
Chinook District - Annual Recognition Dinner
The Annual Recognition Dinner will be held on May 9, 2019. This will be in place of the MAY Roundtable. Please put that on your calendar! Come! Celebrate a great year!


Where:
Sizzler Restaurant, 936 Ocean Beach Highway, Longview 98632
Date:
Thursday, May 9th
Times:
Dinner – 5:30pm or when you get there
Program – 6:30pm
---
Chinook District - District Award of Merit
District Commissioner Brad Pyl is seeking nominations for the District Award of Merit. Deadline for submissions is March 31st, 2019. Below is a message from Brad.


Hi everyone it is time we recognize those people that have served as a volunteer and exemplify outstanding service to the district and to their units.
I am attaching the District Award of Merit application to this e-mail.
I have talked to a few of you about this so please fill out the form.

Please if you have someone you want recognize please fill out the form and send it to me or to Sharon.

There are many unsung heroes out there and they need you to fill out the app and turn it in.
Let's not forget to recognize anyone.
Any questions drop me an e-mail.

Thanks for your help,
Brad Pyl
District Commissioner

---
CANCELED Events
In the interest of health and safety, the following in-person events have been cancelled.

Check your email and the Events page for an up to date list.
Chinook District Commissioner Meeting, Apr 2
Chinook District Committee Meeting, Apr 2
Chinook District Roundtable, Apr 9
Chinook District Pinewood Derby, Apr 25
Chinook District Camporee, May 1-3
---
**ON HOLD** Candy Sales
The Candy Sale fundraiser is currently on hold. People selling candy need to hold onto their product until further notice

<!518946531881754> <!518946531881754>